Community Partners Supply Weekend Meal Packs for
MCPS Students
Community Partners Join Backpack Snack Attack Weekend Meal Pack Program to support Manassas City Public Schools.

During this time of unprecedented need in our community, we are working to increase nutritious meal availability to allow our children every opportunity to be healthy and eager learners.
Five community partners, including Grace United Methodist Church, Upper Room Christian Cathedral, the Manassas Chapters of Beta Sigma Phi Sorority and the Wellington Community are working with Manassas City Public Schools to expand the "Backpack Snack Attack" program that will provide 40 weekend meal packs for selected elementary students each week through 2012, for a total of 4,400 weekend meals over 24 weeks.

The packs promote healthy eating and provide a much needed source of nutrition for students on weekends whenschool meals are not available.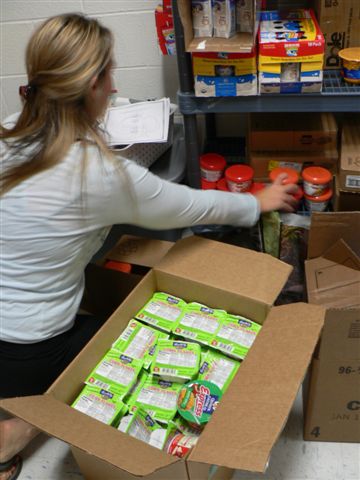 Trinity Episcopal Church successfully partnered on a pilot with MCPS in Spring 2011 by providing 1,100 weekend meals over 12 weeks, and is continuing its support in 2011-12. The weekend meal pack program is patterned after similar programs in Herndon, Fairfax and Blacksburg, Va.Harris Teeter also donated funds for the pilot.

"The parents are grateful, the students say thank you, and the teachers are seeing a difference in the classroom," reported MCPS Supervisor of Administrative Services Sandy Thompson, R.N., M.S.N., to the School Board on June 14. "Our community partners are providing a creative solution that addresses both food insecurity and childhood obesity. These aren't Vienna sausages and cracker packs. We are excited by their commitment to continue to provide nutritious food while expanding the program to reach more students."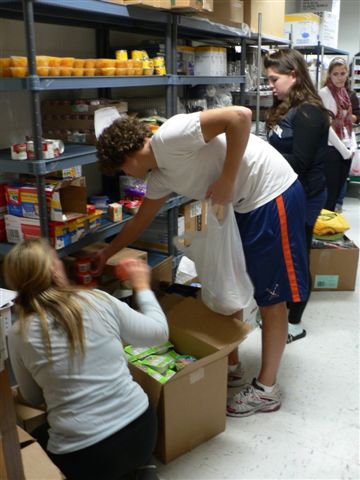 MCPS Director of Food & Nutrition Cecily Anthony researched a food list for the partners that downplays sugar, fat and salt while boosting protein. Each food pack contains individually sized, ready to eat (including microwavable) food items that don't require refrigeration for a total of two breakfasts, two lunches, two dinners and two snacks per weekend. Donated items may include:
Hormel Kid's Kitchen – Chicken or Spaghetti (7 ¾ oz)
Campbell E-Z Open Soups – Chicken Noodle, Chicken & Rice or Cream of Chicken (7.25 oz)
Campbell Soups - Cream of Mushroom, Cream of Tomato or Vegetable Beef (7.25 oz)
Dole Cups/Fruit Bowls - Diced Peaches, Mandarin Orange, Mixed Fruit, Pineapple or Tropical Fruit (4 oz)
Seedless Raisins in Individual Boxes
General Mills Cereal Bowl Packs – Kix, Cheerios or Rice Chex (8 oz)
Quaker Apple Cinnamon TO GO Oatmeal Cereal (Bowl Pack – 2 oz)
Quaker Chewy Chocolate Granola Bars
Silk Vanilla or Chocolate Soy Milk (Shelf-stable) sip box (8.25 oz)
Juicy Juice 100% Juice Sip Boxes – Orange, Grape or Fruit Punch (6 oz)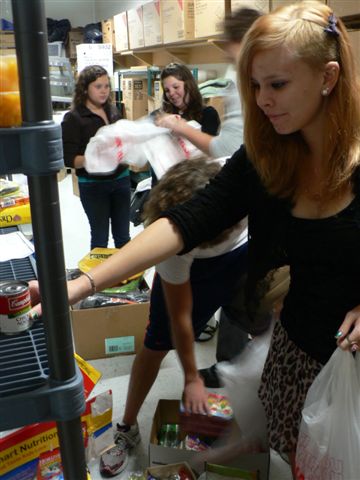 Packs cost $9.50 each, and are being assembled weekly by members of the Metz National Junior Honor Society and the Osbourn High School Key Club, and distributed to schools by C.A.S.E. (Community and School Engagement Council) members. Contributions are welcome.
Please contact the community partner of your choice to donate. For more information on the program or to make a donation, contact Cindy Brookshire at 703-361-6941 or brookshire1014@verizon.net.


Have a comment about a Prince William County Story?

Do you have a comment or question about Prince William County, Virginia? If you submit it here, other visitors can read it; answer it; learn from it, or otherwise comment on it. An e-mail address is not required.

From Manassas To Community partners supply weekend meal packs for MCPS students to Manassas