Huge Georgetown South Community Service Project
1,200 'Tom Sawyers' Paint Fences in Georgetown South Community.

MANASSAS, VA - April 24, 2010 - They came from as far away as Pennsylvania, Maryland and West Virginia, nearly 1,200 youth and adult volunteers, ready to "show some love" for the residents of the Georgetown South neighborhood of Manassas, Virginia in a massive one-day, one-community, one-impact makeover.
Four Prince William County churches participated: Emmanuel Baptist and Hope Lutheran in Manassas and First Baptist and Lake Ridge Baptist Churches in Woodbridge.

The project is a first for Group Cares (formerly Group Work Camps Foundation) in Colorado, which selected the City of Manassas for their first national "1 By Youth" project site, based on the City's three-year, award-winning Week of Hope program. Indianapolis is up next on May 1, and Linda Proffitt, Founder and Executive Director of Global Peace Initiatives, flew in to observe the Manassas roll-out for her city.

The kick off was a boisterous rally at the Boys & Girls Club, complete with Manassas Assembly of God Church rock band and pep talks from the City Manager Lawrence Hughes, Vice-Mayor Andy Harrover, incoming Police Chief Doug Keen, and State Delegate Jackson Miller (R-50th District). The volunteers then marched the 1.5 miles to the Georgetown South neighborhood along Wellington Road, matching up with their project leaders and going to their designated areas.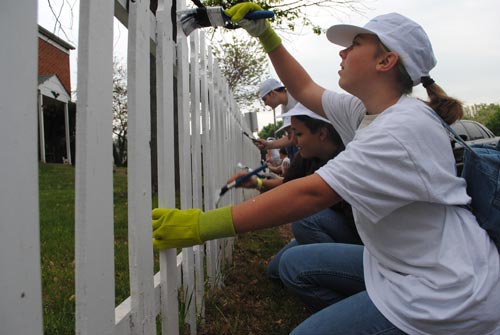 Georgetown South Community Manager Christie Strader says she has been overwhelmed with the response from more than 60 local business sponsors and community partners, such as Lowes, Summit Construction, Virginia Contractor Supply, Habitat for Humanity, Walgreens and Mike Garcia Construction.

"When I went to pick up the $500 in white paint that Sherwin-Williams gave us, I found out that they had $9,000 in donated paint waiting for me – all they had in stock!" exclaimed Strader. The volunteers completed more than 20 projects, from replacing muddy paths with soft-fill pathways and painting fences, playground equipment and electrical boxes, to filling three roll-off dumpsters with 700 bags of litter, trash and recycling. They even cleaned up and mulched areas not on the list.

"We cleaned out the Giant on Wellington of all their trash bags," said Kisha Wilson-Sogunro, Neighborhood Services Manager for the City of Manassas, and the driving force behind the local project. "People in the community were just showing up, asking us to hand them a paint brush. Steve Rice at J.E. Rice was there for us. Comcast was there for us. They made this their Comcast Cares project and sent us money and employees to work. You just had to be there."

Group Cares' Camp Project Leader Tim Kurth stated, "A year ago, we were all sitting around a table, thinking up 1 By Youth and how we could carry it forward to reach our goal of one million teenagers, completing a day of service and showing their faith in action. Today was the first step toward that vision, and I think Manassas set us off on the right foot."

Though the threat of rain shortened the workday, all were happy to gather again for a Block Party celebration at the Georgetown South Community Center before heading back home.

"I have so many plans for this community," said Strader. "Today has taken a few of my wishes off the rolled up map and made them happen. I am so grateful to these wonderful people."


Have a comment about a Prince William County Story?

Do you have a comment or question about Prince William County, Virginia? If you submit it here, other visitors can read it; answer it; learn from it, or otherwise comment on it. An e-mail address is not required.

From Huge Georgetown South Community Service Project to Manassas