Prince William County Virginia has been smacked by record snowfall this winter. In fact, so far this 2009 - 2010 winter has seen 73.2 inches of snow fall at the airport in Manassas. And, it's only the middle of february! In february alone, we've had an incredible 46.1 inches. We've had snow on February 2, 3, 5, 6, 9, 10 and 15. Schools have been closed every day except 2 this month.
PWC schools have only been open on February 2'd and 4th this month (were closed Feb 1 for a teachers work day). Including the blizzard we had in December (schools were off 3 days then too, just before Christmas) -- so far Prince William County Schools have been closed at least 11 days this winter due to snow. Luckily they have 18 snow days to work with each year.

Throughout the one-two punch of record February snowstorms (more like blizzards) more than 1,900 Virginia Department of Transportation snowplows and spreader trucks plowed the highways of northern Virginia, including Prince William County. VDOT also sent 200 reinforcements from Hampton Roads and Richmond to move an estimated 496,778 tons of heavy, wet snow.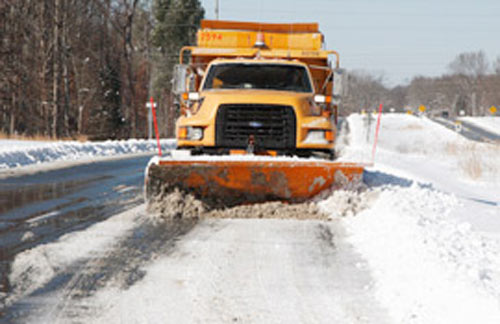 VDOT snow plow clears snow on PWC road. Photo courtesy of VDOT
---

In snow-buried neighborhoods, Boy Scouts and teams of homeowners armed with shovels began unearthing fire hydrants. Clearing an area of at least one foot around hydrants helps firefighters to locate hydrants quickly in case of emergency and can assist in preventing damage to hydrants by snow removal efforts. Because VDOT does not remove snow from sidewalks or trails, residents with snowblowers and shovels started doing the job.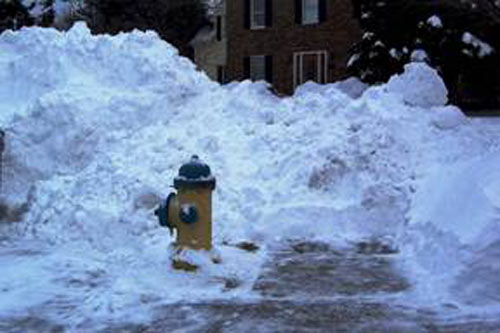 Local fire hydrant cleared of snow. Photo courtesy of Raymond Beverage.
---

Roof Distress
The weight of up to 30 inches of snow caused the collapse of the Prince William Ice Center on Dale Boulevard, a hanger at Manassas Regional Airport, and threatened the collapse of the roof at Mayfield Intermediate School in the City of Manassas, forcing it to close temporarily. City of Manassas Public Schools scrambled to find alternative locations to continue educating 1,000 5th and 6th graders.

Prince William County building officials urged homeowners to pay attention to warning signs of roof distress, including sagging ceilings, new or expanding ceiling cracks, and any popping, cracking or creaking sounds. Residents observing any warning signs were urged to evacuate the building immediately and call 911.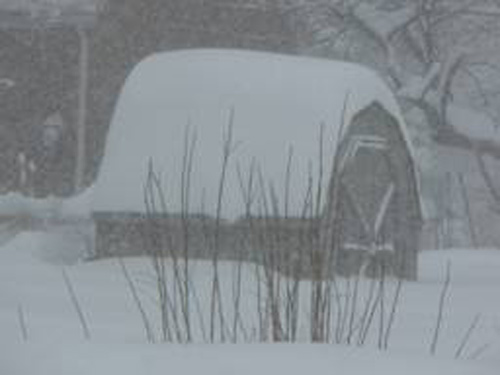 Shed roof bears up under weight of record snow.
---

Flooding
The potential for flooding greatly increases as the snow begins to melt. To help prevent pooling and flooding in area streets, residents were asked to clear snow and debris from nearby storm drains and report any missing, damaged or dislodged manhole covers to the county's emergency dispatch office at 703-335-7982 or 703-335-7990.

Blood Drives
As a result of the two massive snow storms, the American Red Cross was forced to close nearly all of their donor centers and blood drives for four days. Additional cancellations and low donors show rates led to a total loss of nearly 4,000 donations of blood and platelets. In one week, 105 mobile blood drives were cancelled and 14 donor center operations were closed.The American Red Cross Prince William Chapter holds blood drives throughout the county at community hosting locations. To find a blood drive, go to www.pwarc.org.

Emergency Preparedness for All Hazards
The Virginia Department of Emergency Management reminds everyone to have at least a three-day supply of food, water and prescription medicine available for every member of your family during winter storms. Remember to have any food or medicine needed for your pet. Some other important tips:
Keep your cell phone fully charged at all times in case of loss of power
Fill your bathtub with water for use if necessary
Make sure all smoke alarms and carbon monoxide alarms work
Keep portable heaters properly maintained and follow manufacturer's directions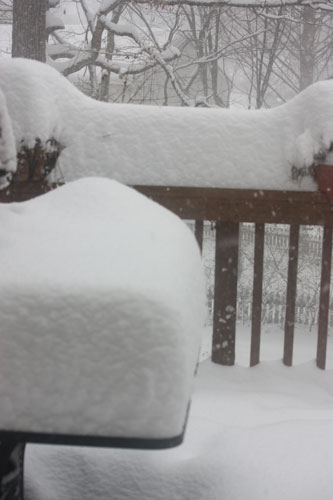 Snow Covered Deck.
---

Remember to Say Thanks
Sure, we all pay taxes and it's their job…but don't forget to say thank you to the men and women who worked many hours in the cold to keep you safe, while their own loved ones had to do for themselves.

VDOT Northern Virginia District Administrator Morteza Salehi received this message from a grateful resident:
"I just wanted to commend VDOT, its employees, and subcontractors for the fabulous work this past snow weekend. All of your people were right-on this snow from start to finish. I mean you guys really worked every area I encountered in a more than timely and highly effective manner. Your people were everywhere all the time. I was out in it all day. I've lived here a long time and I just couldn't let this opportunity pass by without commending VDOT for their fabulous efforts. It was just incredible to me….God bless each and everyone who participated in this big program….Again, thank you so much for taking good care of all of us."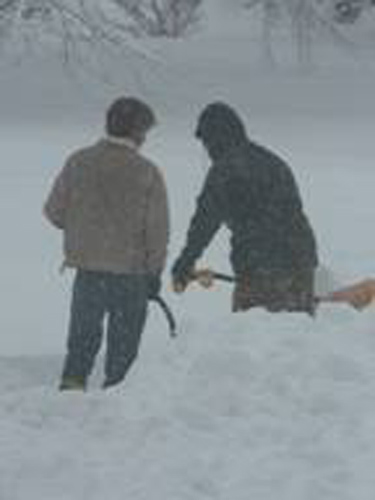 Neighbors work together to clear driveways.
---

For the latest road conditions, weather, incident information and traffic camera video, drivers can visit www.511Virginia.org or call 511. Residents who need to report dangerous conditions on neighborhood streets should send the address, subdivision and county to novainfo@vdot.virginia.gov. They can also call 703-383-VDOT or 1-800-367-ROAD.
Have a comment about a Prince William County Story?

Do you have a comment or question about Prince William County, Virginia? If you submit it here, other visitors can read it; answer it; learn from it, or otherwise comment on it. An e-mail address is not required.

---
From Prince William County Virginia Snowmageddon to Prince William County Virginia | Prince William County Virginia Blog | Dale City | Dumfries | Gainesville | Lake Ridge | Manassas | Montclair Virginia | Occoquan | Quantico | Woodbridge |
---
Prince William County Schools | Prince William County Fire & Police | Prince William County Libraries | Prince William County Animal Services | Prince William County Doctors | Prince William County Dentists | Prince William County Lawyers | Prince William County Realtors | Prince William County Insurance Agents | Prince William County Financial Planner | Prince William County Nursing Homes | Prince William County Car Repair Shops | Prince William County Shopping | Prince William County Restaurants | Prince William County Entertainment | Prince William County Recreation | Prince William County Churches | Prince William County Commute | Prince William County Washington D.C. Trip | Top 10 Things to Do in Prince William County | Prince William County Forum | Prince William County Blogs | Prince William County Virginia News | Prince William County Questions |
---
Home Page

About Us | Contact Us | Site Search | Terms of Use |
---